CIB pdf brewer ofrece funciones como la optimización del tamaño del archivo PDF, la unión de varios documentos PDF y compresión sin pérdidas de documentos PDF con Microsoft Word u otros programas en el formato de salida PDF híbrido.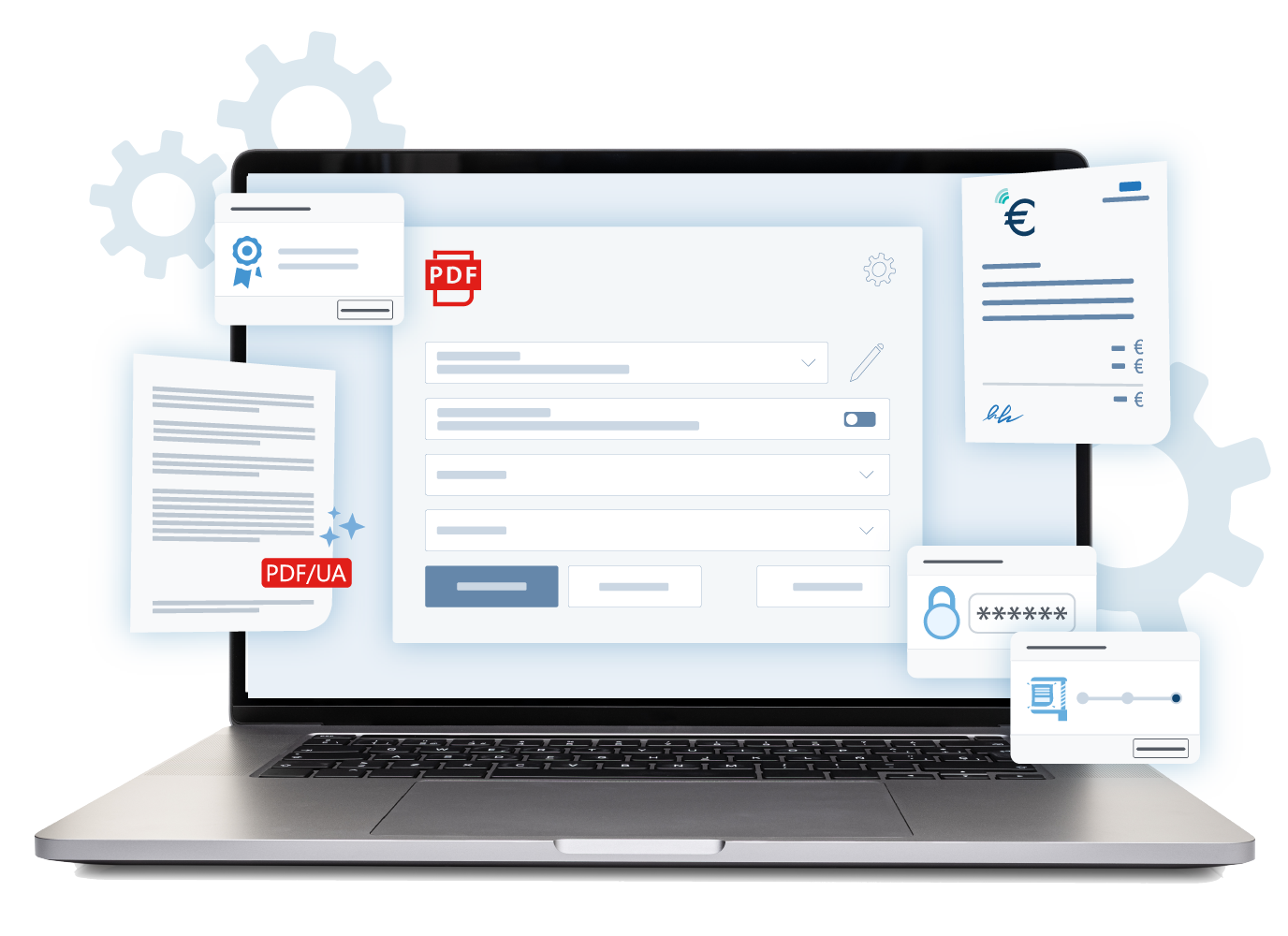 PDF/UA header and footer marked as artifact
PDF/UA missing table header
CIB product integration properties fix
Preview shrinks with mixed page sizes
New translations missing in Office
Addin: document sharing with CIB doXisafe
Accessibility: high contrast mode compatible
Support of Chinese/Japanese/Portuguese
[ES] CIB fairBrief: mandatory batch identification
PDF/UA: correct footnote tagging
Improved hybridPDF saving workflow
Mailing switched to EML files
PDF/UA: aware of compatibility and protected mode
Removed welcome page in favor of our elearning platform
PDF/UA: improved access to MS Accessibility Checker
Improved document composer for fixed profiles
Profile selection can now be minimized
Business features to hide CIB doXisafe/fairBrief/doXiview connections
PDF/UA: wizard check for table headers
Accessibility: improved keyboard navigation on main windows
Addin: PPT transitions to PDF issue
Artifacts on particular documents
Minor UI/wording fixes
PDF/UA: fix the issue with hyperlinks
HybridPDF issue on editing
 
OCR support added
Print job collection
Removal of application data (optional)
Handle alternate text of tables and diagrams in our PDF/UA wizard
PDF/UA wizard guides to MS Accessibility Checker for WCAG compliancy
Theme aware icons in Office Addins
Improved print dialog on non-dpi-aware applications
Metadata transfer to PDF in Office Addins
Several UI improvements
Fix PDF/UA output of tables that spawn several pages
Visual artifact in CIB fairBrief (Spanish options)
Floating pixel when using dark mode removed
Fix several isolated PDF visual artifacts
CIB doXiview not showing e-invoice side panel after using our opener
ZUGFeRD fix IncludedNote
Encryption key asked during invoice creation
Page numbering
Excel Addin: export area option for ODS
CIB fairBrief: AI address extraction
Business: Hide AI compression setting
Business: Hide individual options in Office addin
CIB pdf brewer & CIB fairBrief: UI theme contrast improved
CIB doXisafe redirect
Addin: legacy forms to PDF enabled
Enhanced integration with main Office menu
Direct feedback button added in profile editor
Minor UI changes
Hybrid PDF transparency issue
Batch progress hang on file error
CIB fairBrief: file path length limitation removed
Missing translations
E-Invoice wizard issue
CIB fairBrief: custom theme cannot change accent color
Addin: PDF/UA headings-check and specific crash fix
Xrechnung not working with certain template
Excel Addin: fix "Fit PDF page to sheet" feature issues
Show real progress on PDF/UA creation
Minor UI enhancements (texts, icons, colors)
CIB fairBrief texts review
Enable lossless level in compression utility
Allow proxy failure fallback
Improved setup resilience
Updated PDF libraries
Addin: improve big Excel sheets fitting
Typos, texts overflow
Missing umlauts in output
Fix CIB doXisafe account change
Error saving in FAT drives
Cannot edit profile if attachment is not present
ZUGFeRD 1.0 selection
Workflow item creation issue fixed
UI themes
CIB fairBrief profile available by default
Excel addin: speed up of invoice processing
Excel addin: automated cell-editing mode exit
Possibility to hide ads
UI improvements: protection, encryption, merge&split
Addin: fetch documentation according to selection
CIB fairBrief: backup path warning if it does not exist
CIB fairBrief: warning if font is replaced due to PDF/A conversion
Fixed workflow issue when cancelling post-options
Black rectangles in some output after conversion
Inverted pages when printing certain documents
ZUGFeRD: <ram:RateApplicablePercent> not transferred
Attachment without name if mail-workflow used
Word addin: conversion failed to draw some elements
Upgraded user interface
Support new XRechnung formats
New UI customizations
Address recognition settings in CIB fairBrief
Open Hybrid PDF from MS Word
Thumbnail generation in PDF utilities
Prompt info of new version available during uninstallation
Theme aware addins
Other minor MS addin improvements
Setup will not restore disabled extensions
Ability to disable Hybrid/invoice opener
UI artifact in CIB fairBrief
ZUGFeRD not displayed via CIB doXiview opener
Improved PDF/UA generation and UI
Rendering issues
Fixed issues with form fields from MS Word to PDF
Excel addin stability
Blurry PDF images with MS PowerPoint addin
Progress report after options during printing
Added confirmation of language and document title
PDF/UA improved merged cells structure
Improved table recognition
Fixed eLearning link for PDF/UA
Alternate link description was not detected
Typos
Hybrid pdf png processing
special case for Tif processed by context menu
Excel Addin: conversion issue with specific layout
CIB fairBrief: fixed issue with print job description and thermosealed envelope (ES only)
Licensed users can skip additional data download during silent installation
Help and information links added to CIB fairBrief
Address detection now detects left margin automatically during address relocation (CIB fairBrief)
News displayed at program startup in CIB fairBrief
Letters sent via CIB fairBrief can be backed up locally
Target server can be changed in CIB fairBrief in the settings menu
Video embedding in PDF supported through MS PowerPoint add-in
CIB fairBrief description tag is available at letter level now
More file formats supported in the CIB doXiview opener (Open with…)
PDF/A enhancements, PDF/A-4 output added
UI improvements
Fixed cut pages during printing
MS add-in fixes (Excel and Word)
PDF/A conversion fixes
Invoices: calculated field rounding issue fixed, missing tag
Visual artifacts in CIB fairBrief (thumbnails and disabled items)
Special characters: allowed in stationeries filenames and uploads to CIB doXiview
Allow custom application name in context menu entry
Single password input encryption (PDF owner/user password)
CIB pdfModule updated (1.44.0)
Locked settings now affect the UI when setting a password during document generation
Excel Add-In

 

Automatic address detection in CIB fairBrief (DE only, requires checkmask)

 

Flexible application name (license required)

 

AI compression

 

Invoice PDF (+ hybrid) custom opener

 
Context menu options in case no PDF document was selected

 

(CIB fairBrief) Support server URL in settings without ending slash

 

(CIB fairBrief) Several UI enhancements: icons, tooltips, proxy settings as in CIB pdf brewer, asynchronous processing, etc.

 

(CIB fairBrief) Auto reattempt of failed settings request

 

Provide right mime type in doXisafe uploads

 

XRechnung 1.2.2 support removed

 

LeitwegID no longer mandatory for XRechnung generation

 
JPEG 2000 input issue

 

Dialogs centered in PowerPoint Add-In

 

Proxy connection issue

 

Typo in proxy settings (DE)

 

(CIB fairBrief) Spurious crash on batch dump

 
UI changes in CIB fairBrief client (Spain)

 
Fixed occasional problem during font optimization step

 
Typo in proxy settings (DE)

 

Proxy connection issue

 
VB.NET/VBA/C++ API Testset

 

PowerPoint Add-in

 

CIB fairBrief: new UI design and ability to lock settings

 

Proxy settings panel, in the global configuration window

 
Text improvements

 

Merge&Split window default size reduced

 

General improvements in CIB fairBrief

 
Typos

 

Context menu reload option after installation

 

Issue in Merge&Split drag and drop

 

CIB fairBrief, checkmask is now applied to attachments

 

Issue with login switch in CIB fairBrieft

 

Issue during export without forms in Word Add-in

 
New CIB fairBrief settings: description / certified letters

 

Setup is now aware of newer versions

 

Allow more document types in Merge and split utility

 
Office Addin improvements

 

CIB fairBrief general enhancements

 

UI Wizard for PDF/UA reworked

 

Several translation changes in UI

 

Bookmarks are available now for floating point font size

 

Merge and split utility improved

 
Encryption / Decryption enhancements and bug fix

 

Fixed a PDF/A conversion corruption for a document

 

Fixed small issues in Merge and Split

 

Printing issue with PowerPoint slides dimensions

 

CIB fairBrief internal file names improved

 

Context menu issue if no printer device available fixed

 

Invoice error at XRechnung 1.2.2

 

Fixed attachments inside invoice XML
Activate / Deactivate context menu entries

 

Added direct image conversion to PDF for JPEG2000 images

 
Delivery Note Referenced Document is correctly created in ZUGFeRD output

 

Fixed Thumbnail problem in CIB fairBrief client

 

Fixed an issue, where 2 invoice items were not recognized correctly

 

Fixed output of image conversion to PDF for a special case in tiff image and for gif images.

 
Office add-in: E-Invoice wizard added to the Microsoft Word Addin

 

Office add-in: News with splash screen

 
Improved user handling in CIB merge & split dialog

 

Several improvements for translations

 

Improved handling of existing shares in doxisafe option in the context menu

 

Update welcome page info regarding addin

 

Update elearning addin info

 

Updated Icons
Correctly process .lnk Files in the context menu

 

The location defined by user to save the outputs is ignored when saving from CIB AddIn

 

Error when creating the document even if the document was created

 

Issues with the progress bar

 

Officeconverter job is not canceled

 

Missing information in PDF after creation via Adobe Reader

 

Add brewer icon at the windows taskbar for encryption and decryption

 

CIB pdf brewer gave up working when selecting "merge & split" for encrypted files

 

Issues with specific document

 

Issue of "Decide for each document separately" when encrypting/decrypting > 1 documents

 

CIB pdf brewer crashes when Merge&Split with MS documents selected

 

Issue when cancelling the encryption option

 

x button in Encryption doesn't work properly

 

Buyer ID (150,80,80) is not transferred to XML (ZUGFeRD)

 
Initial implementation of PDF/UA creation

 

Extend invoice items in ZUGFeRD

 

Extended XRechnung (XML) so it supports attachments

 
Welcome page for new users update

 

Grouped icons in office ribbon have a group-icon now

 

Allow the preview document with annexed pages in CIB fairBrieft client

 

Hide MSO progress bar when converting Office files from context menu

 

Improvements when a doXisafe code already exists or is not valid

 

Improve handling of doXisafe synchronization

 

Several improvements for the Save & Share utility

 

UI improvements in doXisafe sharing utility

 

Improve workflow in Merge & Split

 

DPI awareness improvements

 
Fixed encrypt/decrypt problem while using defined labels as file name

 

Fixed error when uploading certain files to doXisafe from CIB pdf brewer

 

Merge & Split edition issues

 

ShipToTradeParty added to ZUGFeRD

 

ZUGFeRD MarkUp: korrektes Mapping von negativen Beträgen (Gutschrift)

 

XRechnung: Content in merged cells of excel sheet not converted to XML correctly

 

Fixed invoice typecode

 

Wrong calculation basis tax amount

 

Fixed invoice validation error when not using 4 decimal places

 

CIB fairBrieft: fixed issue with the number of pages displayed

 

CIB fairBrieft: duplex setting was ignored

 

Fixed issue regarding output extension

 

Several text typos were fixed

 
Encryption icon not displayed for Owner OW generated documents

 

Error shown when documents are uploaded to internal CIB doXiview

 

Duplex blank page is missing, when Supplement Attachment is added in CIB pdf brewer and not in CIB fairBrieft client

 
Supporting UNC pathes inside CIB fairBrief client

 

Integrate Code generator for Passwords and CIB doXisafe Codes

 

Use optionally inside CIB fairBrieft client the language settings of CIB pdf brewer

 

Use a new CIB doXiview starter, which can be find in open with for PDF files

 

Support simplex / duplex settings from CIB pdf brewer to be passed thru to CIB pdf brewer

 

Use own office converters to convert Microsoft Office files to PDF instead of print.

 

Added Support for ZUGFeRD TotalPrepaidAmount and DuePayableAccount

 

Display (test) inside CIB fairBrief client, if a test user is used

 

Check all files added to CIB fairBrieft and convert then to PDF/A-3b, if they don't comply to PDF/A

 

Support X-Rechnung 2.0

 
Improved localization in Microsoft Word Addin

 

Ignore case in the CIB fairBrieft config files keys

 

Improved translations inside CIB fairBrieft client

 

Don't mark OWNER-PW encrypted PDFs anymore with an encryption symbol in file explorer anymore

 

Improved file explorer icons

 

Display also attached files in error window, if checkmask failes in CIB fairBrief client,

 

Improved stability of Setup

 
Fixed a case, when there was no preview in CIB doXisafe generated share email.

 

Fixed correct saving of settings of the Microsoft Word Addin

 

Allowance and Charge can be combined now during CIB invoice toolbox

 

Fixed clicking Cancel on progress window, that no success is shown anymore

 

Fixed a case, when a configuration files could be corrupted during update

 

Fixed: An Update deletes settings from system wide configuration file inside the Microsoft Drivers Direcrory

 

Fixed positioning of signature fields, if they are inside a table

 

Fixed opening hybrid files, when opened from UNC pathes

 

Fixed a crash during pdf processing, when opening a special file

 

Fixed opening of files on CIB doXisafe. It could happen, that an empty web page is opned.

 
Support ZUGFeRD 2.1 Generation

 

The 

CIB fairBrief

 extension, which is your cost-effective way to send out real letters, has seen an overwork. You can e.g. add supplements to a letter now.

 

Inside CIB pdf brewer profiles you can also add front pages and footer pages to a newly generated document.

 

Many improvements and some bugfixes for the Merge & Split Window

 

Overall many improvements in usability, user interface, localizations for the whole product