The PDF format is nowadays the most widely used file format for archiving files in the administration. Universally compatible, PDF documents are the most suitable format for transfer to storage media, mobile devices and PCs. However, companies and administrations often face the challenge of transferring and archiving PDF files with large data volumes. The solution resides in PDF compression: the aim is to reduce the size of PDF files, with as little loss of quality as possible and in absolute compliance with data protection regulations. 
CIB fluXcomprimator - a high-performance compression tool with outstanding technology
Das PDF-Komprimierungstool von CIB reduziert die Größe von PDF-Dateien optimal, ohne die Ausgabequalität zu beeinträchtigen. Insbesondere Dokumente mit Bild und Text profitieren von der PDF-Kompression und erzielen Kompressionserfolge von etwa 90% des Originalvolumens. So werden enorme Einsparungen an Speicherkapazitäten und Übertragungszeiten erzielt.  
Searchable PDF compression: essential for businesses and administrations
Investing in a professional PDF compression tool pays off. In fact, banks, insurance companies, law and tax firms are legally required to retain many business-related documents for ten years or more. Large companies therefore archive countless PDF files every day. This results in high archiving costs and long processing times. This is where CIB fluXcomprimatorenters the picture and sustainably relieves full archive servers. With the PDF Compressor, you can carry out PDF/A-related projects quickly and easily.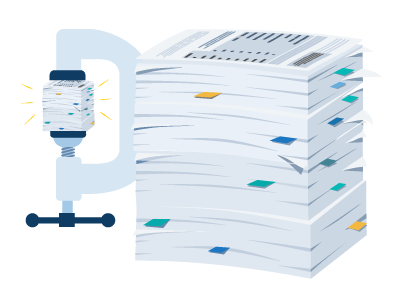 Automate PDF compression for even better performance
Companies can integrate our PDF high compression solution individually into their in-house system. With Business Integration, the PDF Compressor is not only easy to install, but also safe and reliable to use. Optimum text readability is guaranteed by automatic text recognition and quality control based on artificial intelligence. Thanks to lean documents and practical automation, processes are optimized, storage space is saved and consistent high quality of archived documents is ensured. 
CIB fluXcomprimator at a glance
Powerful compression thanks to

high-end MRC technology

 

Scanned documents and photos generated as compressed PDF in seconds

 

Full automation of PDF compression possible 

 

Adjustable compression levels for every application 

 

Integrated text recognition and automatic AI-based quality control

 

Convert inputs into PDF/A and legally compliant for long-term archiving. All PDF/A standards (A-1 to A-4) are supported.
Create high-quality compressed and fully searchable PDF/A files with CIB's PDF compression! Contact us for an appointment.A demo of the compression module within the browser can be tested here..