Web-based PDF and data editing with our multifunctional viewer!
No installation: Professional PDF editing, digital invoice processing, online document signing, PDF compression, and much more!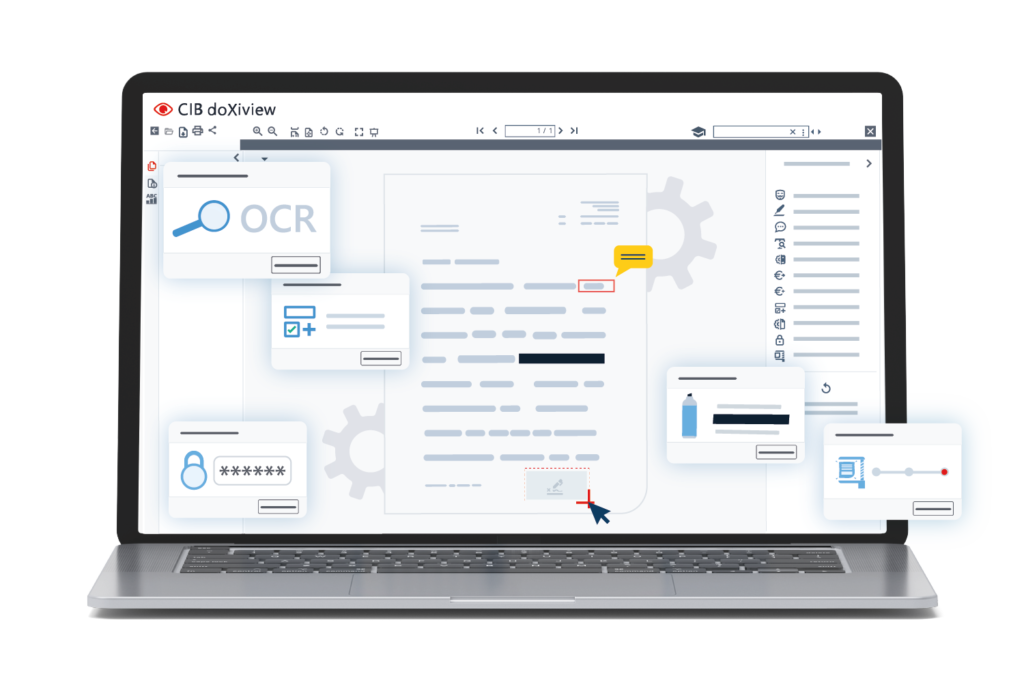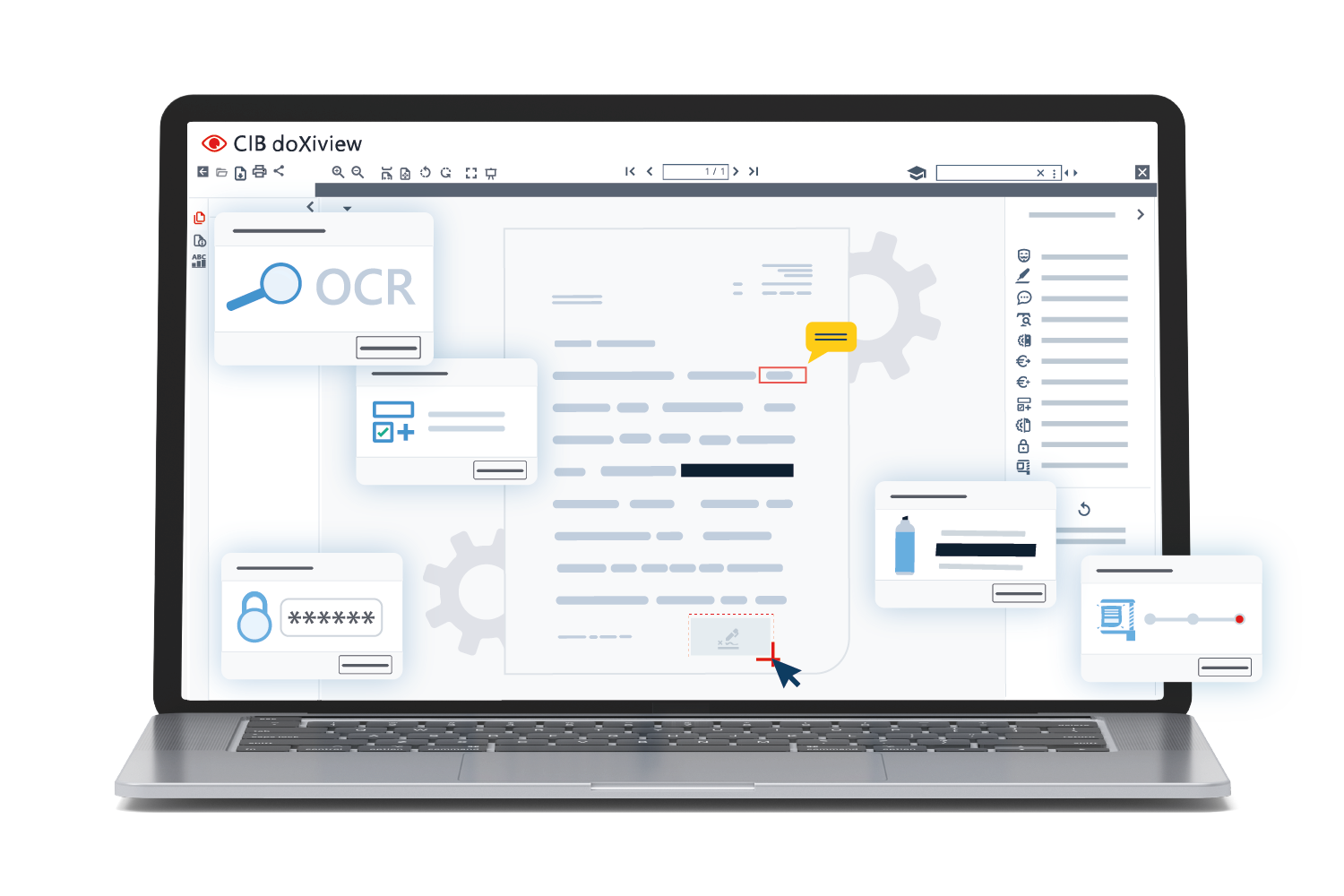 Edit documents online
Browser-based and does not require any installation
More than 200 file formats
CIB doXiview enables the visualization of the most common formats and more
Easy integration
In Ihr bestehendes System integrierbar
CIB doXiview functionalities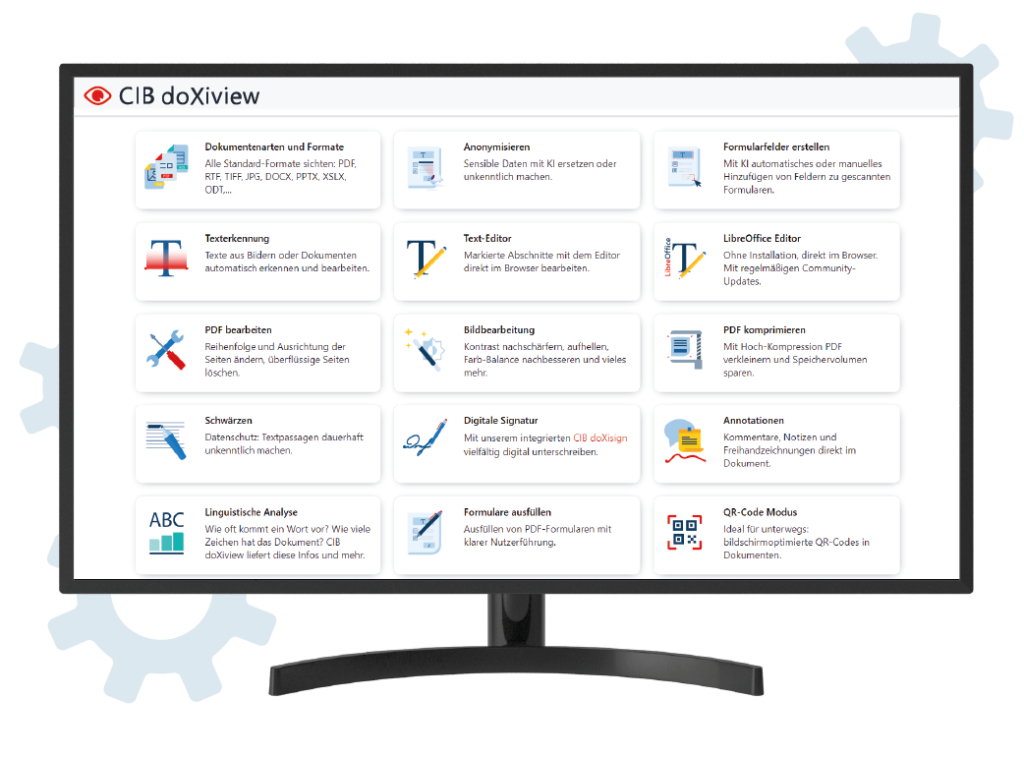 Document display of all standard formats: PDF, PDF/UA, PDF/A, RTF, TIFF, JPG, PNG, DOCX, PPTX, XSLX, ODT, ODX, and many more, as well as:
CIB doXiview functionalities
Dokumentenarten und Formate
KI-gestützte Anonymisierung und Pseudonyminisierung
Mit manuellem Schwärzen Textpassagen dauerhaft unkenntlich machen
AI-supported text recognition
Digitale Signatur (CIB doXisign)
Dokumentenformate konvertieren (PDF, PDF/A, JPG, PNG, TIFF,...)
KI-gestützte PDF-Kompression mit Kompressionsstufen
PREMIUM Postversand komplett online abwickeln (CIB fairBrief)
Mit Licht & Schatten Scan oder Bild verbessern
Auflösung eines Scans oder Bildes verbessern
PDF-Seiten bearbeiten, löschen, in der Reihenfolge oder Ausrichtung ändern
E-Rechnung mit SEPA-Datensatz und schnelle Zahlung mit Giro-Code anzeigen
E-Rechnung mit Übernahme von IBAN und Empfängerdaten erstellen
PREMIUM E-Rechnung über Schnittstelle und mit Zahlungsbestätigung bezahlen
Markierte Abschnitte mit dem LibreOffice-Editor bearbeiten
Markierte Abschnitte mit dem Text-Editor bearbeiten
Annotationen, Kommentare, Notizen, Pfeile und Freihandzeichnungen hinzufügen
Linguistische Text-Analyse
PREMIUM Nahtlose Integration und Anpassung an der Firmen-CI mit Farbpersonalisierung
PREMIUM Dokumenten- und Datenschutz ohne Speicherung der Daten auf dem Server
Flexible processing of application documents
Simply merge cover letters, curriculum vitae and certificates, change the order as required or remove unwanted documents or pages.
Proof of income required from landlord?
Use CIB doXiview to irrevocably black out all irrelevant positions on account statements, save them as PDF files and send them off.
Cost-effective processing of receipts from the sales representatives?
The optimal solution to save money: highly compressed files in ideal resolution for space-saving archiving.
Obligated to submit e-invoices?
With our solution it's really easy! Import your own invoice, mark relevant items according to instructions and generate e-invoice.
Overview of versions

BASIC

PREMIUM

Displays over 160 file formats

Automatic text recognition (OCR)

Browser-based text editing - via standard editor or extended OpenSource solution

CIB Office

Annotate, black out, sign directly in the document

Inserting PDF form fields

Connection to payment function

Advanced and Qualified E-Signature

Postage optimization via CIB fairBrief
Get started with CIB doXiview!