The individual and mobile solution for document transfer and document exchange with your clients
Digitise business processes and take the step towards the tax office of the future with the app: digital, simple and direct!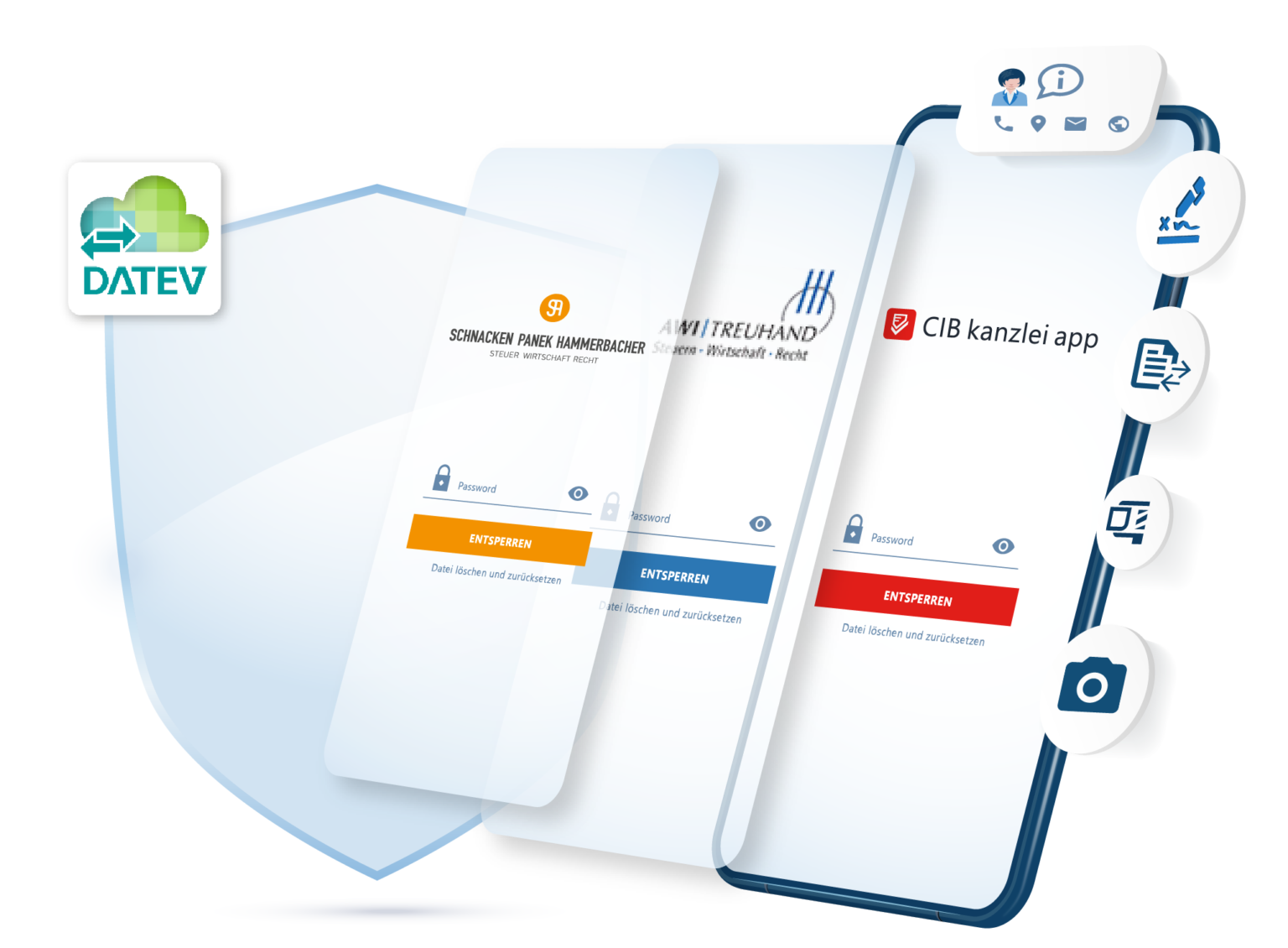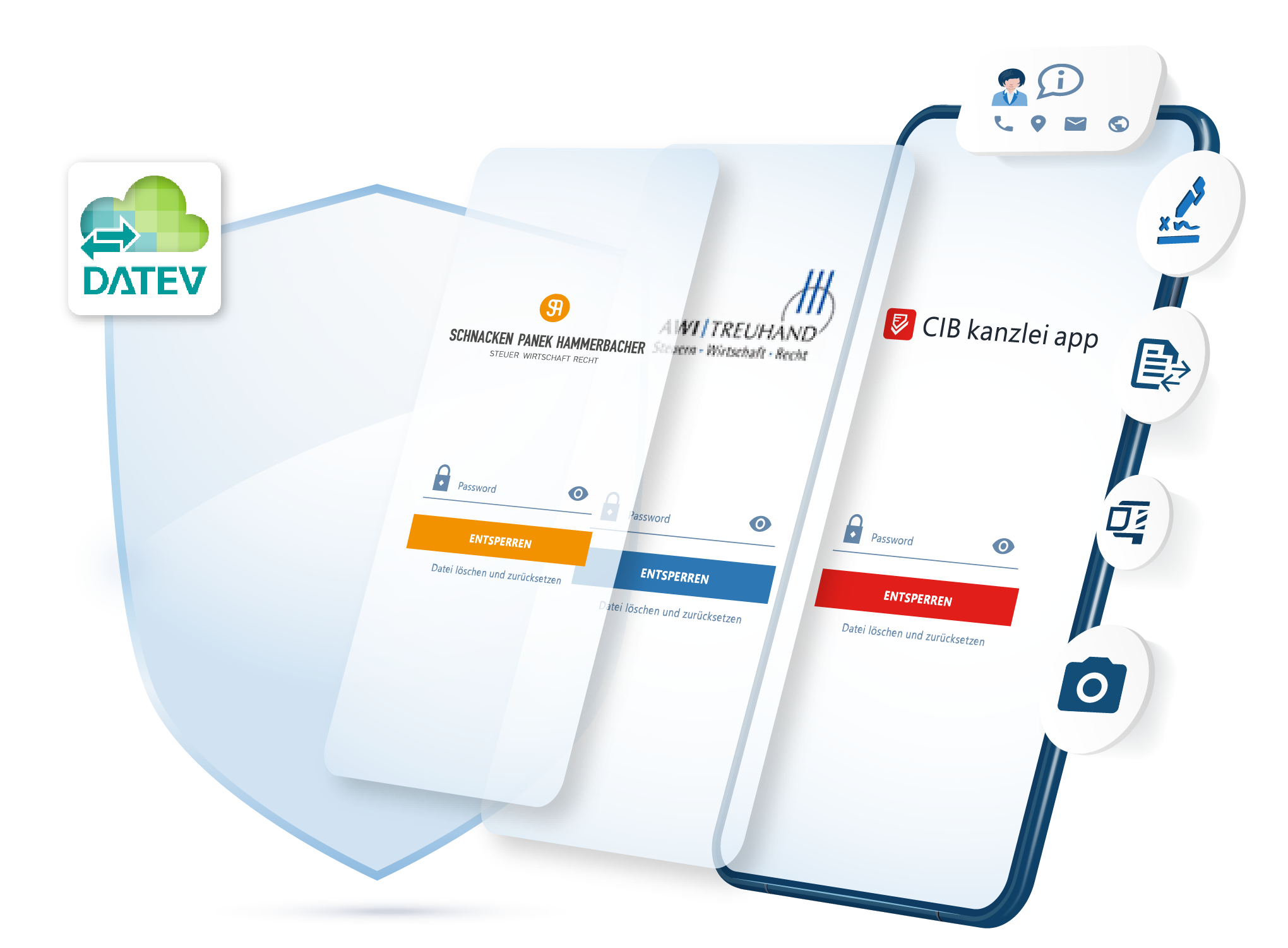 Your advantages with the CIB law firm app
Guaranteed individual app
Your personalised app is developed for you with your company colour and logo and made available free of charge in the App Store.
Digital saves time and costs
No more scanning and assigning receipts – the client digitises and transfers them directly to DATEV Enterprise online.
Safe is safe
Via the interface, clients transfer their documents directly, securely and optimally compressed to DATEV..
Saved again with the app
The storage volume of documents at DATEV is reduced by 75%.
(Savings potential approx. 5,000 €/client with retention of 10 years and documents with
80-100 MB/client/month)
Work more easily and efficiently
Sign documents digitally, make appointments and other business processes from now on in your own app!
The plus for your clients
Make law firm information and relevant news available in the app – your data is transferred in real time in a matter of seconds!
Free app for tax advisors
Individual app for your law firm
*Bitte beachten Sie die Infos zum Developer Account
CIB law firm app with add-ons
Get even more out of it for yourself!
CIB kanzlei app Add-Ons

CIB kanzlei app

PREMIUM

DATEVconnect online - for secure document upload to DATEV Enterprise online

CIB doXigate

- Interface to the document exchange platform with document upload directly via the app
Order and set up your app now via the CIB cash webshop!
Many advantages in the portal:
Easily configure your app with logo and colour
Independently update and customise your app
Overview and management of your CIB solutions
Demo in the stores
Scan in and try out
A successful, easy-to-use app with which my clients can upload receipts both for Datev Unternehmen online and -soon- for Datev Meine Steuern. In addition, up-to-date information about the office, e.g. opening hours and direct contact options to the team. Changes are implemented in seconds without having to update the app.
The CIB kanzlei app underlines our digital law firm presence. It is embedded in our digital processes for smart financial accounting and tax advice.
Own law firm app - an effective advertisement for a tax advisor practice and contemporary high technical as well as digital level. The download link on your own website for iOS and Android is the icing on the cake.
We are pleased to be able to use CIB doXigate together with our clients and thereby significantly optimise the business processes for all parties involved. In combination with the premium version of the CIB kanzlei app, document exchange will become even more interesting and mobile at the turn of the year!
A well-rounded solution without superfluous "frills" that is becoming increasingly popular with my clients. Almost all clients with digital document exchange now use the app. Even non-clients using Datev can use it!
I expect the CIB kanzlei app to make things much easier compared to the previous procedure.
We switched our law firm app from another provider to CIB. It is easier to use, technically more sophisticated, yet more cost-effective and makes optiWe and our clients are thrilled! We are now truly 100% digital.
Start now with your digital law firm!
Demo in the App Store and in Google Play: